Get inspired to throw a dinner party for Aries season that celebrates all the bold, fiery energy of this independent sign. Author: Allie Crouch. Photograpy: Peter Chudleigh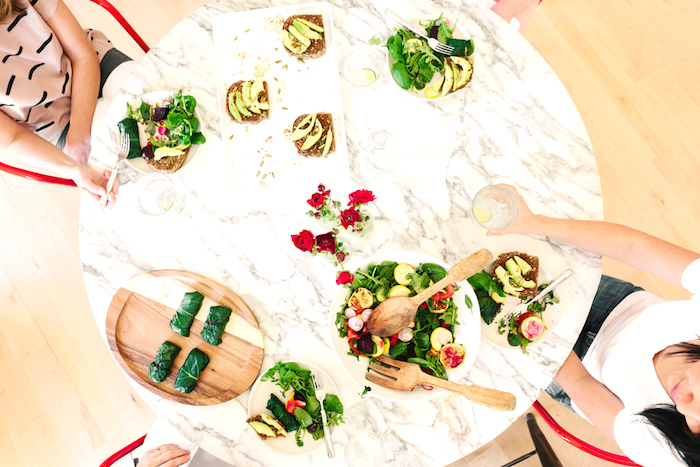 It's your time in the Sun, Aries, the independent, self-starter of the zodiac. And your season will serve us all well by showing us the importance of listening to our inner selves and making room for the things we need as individuals.
:: KEEP IT SIMPLE ::
Aries Season fills us with a go get 'em mentality, as a passionate burst of fire sign energy seeps in. This month, details and frills that are often associated with a celebration dinner don't feel so important. Less is more, right? Embrace the beauty of simplicity, all the better to focus your energy on all the initiations and projects on your metaphorical plate this season.
But keep things bright and lively – with accents of Aries' power color, red, to stimulate the warrior within. Red chairs and flowers for the table set the stage for this outgoing sign's feast, while I kept the rest of the palette simple with whites and neutrals. This sign has a casual air about it, so inviting friends over to help with the preparations is totally okay, and a fun way to encourage energetic exchanges from the get go.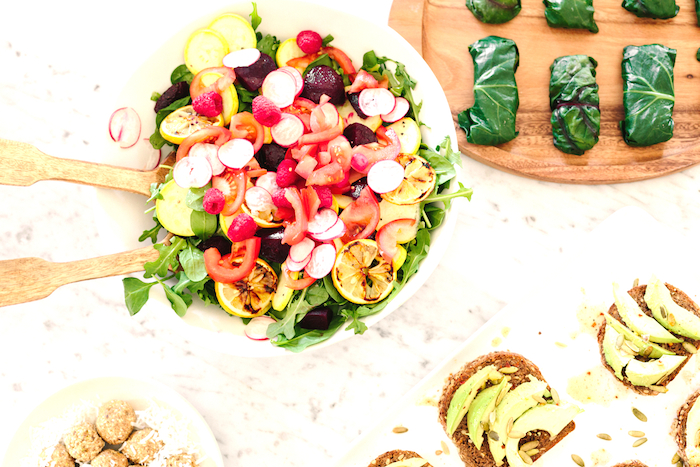 :: THE MAIN COURSE ::
Food served as fresh and whole as possible is essential for staying fueled during this energetic season. No heavy food comas allowed! So of course, a veggie-packed salad is a go-to. I used a spring mix with squash slices, radish slices, tomato, beets, red pepper, raspberries and grilled lemon slices. The dressing was a simple vinaigrette with salt, pepper, garlic, olive oil, fresh lemon juice and white wine vinegar.
Collard Rolls from a Whole Foods recipe turned out terrific with a mix of beans, brown rice and veggies stuffed inside. To fill in any gaps, a simple avocado toast was the perfect fit. I drizzled a touch of olive oil on slices of fresh multigrain bread, threw them in the oven for ten minutes at 300 degrees, then layered them with sliced avocado, pumpkin seeds, red pepper flakes and paprika. To add a pop of flavor a little drizzle of the same salad dressing hit the spot. Simple. Whole. Light!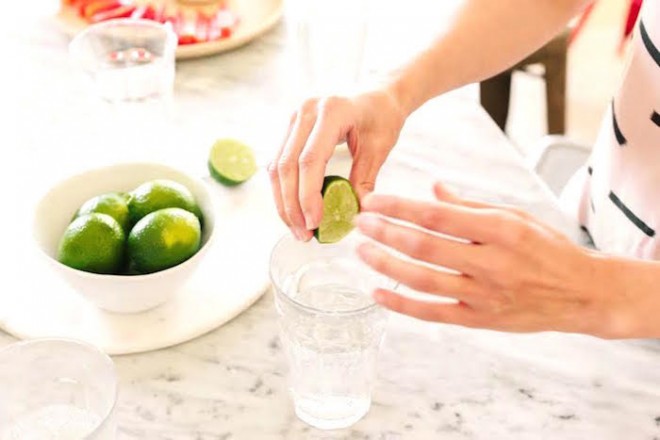 :: BEVERAGE ::
With Aries ruling the head (and its contents), hydration is of utmost importance to keep our focus and short-term memory in top shape this month—as well as boost the long-term memory of this always forward-thinking sign. In light of this, I once again kept it simple and to the point. Sparkling water a la Pellegrino, heavily dosed with lime to aid absorption, is the perfect refreshing beverage for Aries Season, and to match the simplicity of this celebratory dinner menu. I also added a pinch of organic sea-salt to amp up the hydration.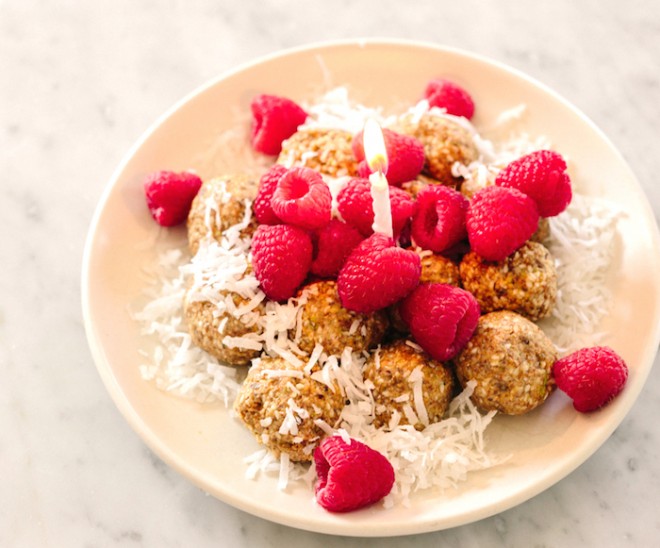 :: DESSERT ::
There's heaps more brain power packed into these delicious Pistachio Sesame Seed Balls. These are my favorite new dessert to make, loaded with Vitamin E to boost cognitive function, and as healthy and easy to assemble as it gets. The perfect Aries party treat.
Ingredients:
1/2 cup almond butter
1/2 cup pistachios
1/2 cup sesame seeds
6 medjool dates
1 Tbs coconut oil
Directions:
Add all ingredients to a food processor and mix until each item is finely processed. Roll a spoonful of mixture between your palms to make a ball. Once all of the mixture is balled up, place in the fridge for at least 20 minutes to let them firm up. To serve, sprinkle with shredded coconut and raspberries.
A final nutrition tip for Aries Season? This month brings Mars into play, the ruler of Aries and our adrenal glands. The above menu is packed with plenty of healthy nutrients to support adrenal health, but a great rule of thumb for this is to eat heavier in the morning and afternoon and very light in the evening – so invite people early, or even consider bumping the celebration to brunch!
But above all, be bold with your outlook and celebrate this season by embracing the Aries spirit of self-love. This will keep your spirits and energy high and your vision true, as we step boldly into spring.
For more cosmic dinner inspiration, check out last month's Pisces inspired soirée.