Get inspired to throw a dinner party for Pisces season, that celebrates all the creative, etherial energy of this compassionate sign. Words & Styling: Allie Couch. Photography: Britt Chudleigh. Styling Assistance: Saucy & Kitsch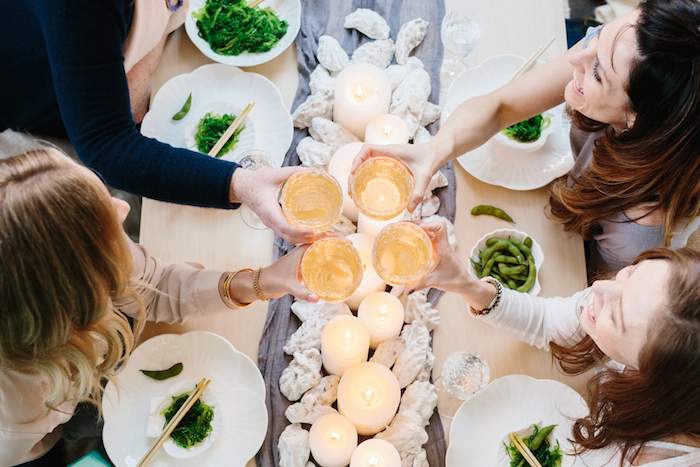 Happy Birthday month Pisces, you ethereal and compassionate sirens. It's your season to emerge from the watery depths and shimmer in the sun — and for the rest of us, a time to experience and take note of this sign's genius mystical ways.
As I dove into the mind of the sea goddess, in order to create a Pisces-esque dinner party and menu, I realized that I am fortunate to have a huge collection of gorgeously soulful Pisces Sun and Moon people around me to draw inspiration from. Get comfy while I guide you through some swimmingly lovely ways to celebrate this gentle sign's solar return in style—whether in honor of a birthday or just to tap into the current constellation's vibes, as I so enjoy doing.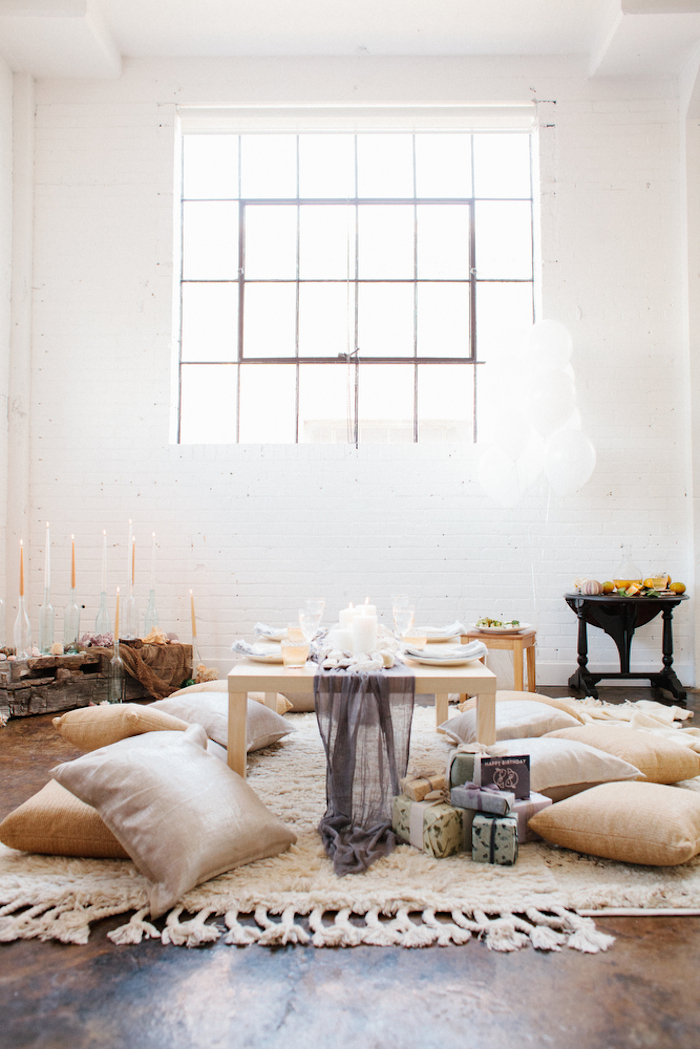 :: The Theme ::
Pisces has a strong connection to the ocean and its healing vibes, and the fluidity of the sea is the theme I plunged into when designing a dinner party for Pisces. Seashell decor and sea veggies became the stars of the show, and tapping into the essence of fluidity, I kept the table setting soft and romantic, using a combination of natural light and candlelight, to create an ethereal feel. The low dining setup added an intimacy, creating a safe space for letting boundaries soften, just how Pisces season likes it. Dishes and glassware were selected to reflect this theme with scallop shell plates and glassware reflecting ripples of wavy movement.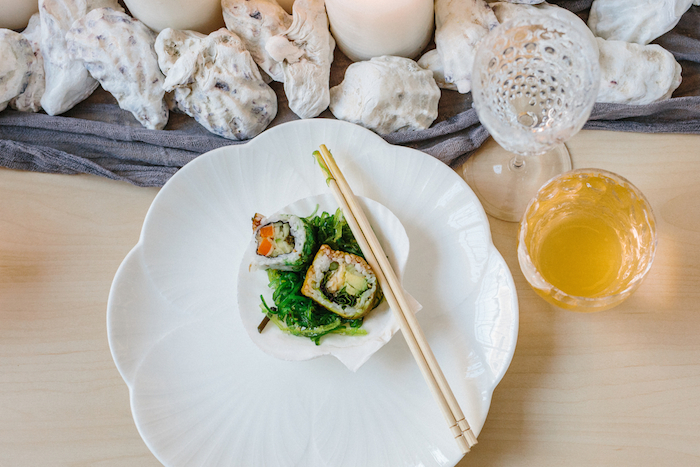 :: Main Course ::
For some high vibe main course dishes, perfect for the current Piscean influence, I brought in edamame, seaweed salad and a variety of veggie sushi rolls; light, diuretic and nutrient dense fare to keep water retention to a minimum during the season of this salt loving sign (even the soy sauce was kept low sodium and the edamame unsalted).
But let's not highlight seaweed as being just for Pisces season, as it has health benefits for just about every sign's ruled health connections. In fact, seeing as Pisces, the last sign in the zodiac and the integrator of all signs energies', what better time to roll out this powerhouse ingredient! Here's just a short list of this superfood's benefits: blood purifying, high in calcium, alkalizing, chelating properties, detoxifying, thyroid regulating, high in magnesium….You get the picture!
And with this plant-based menu, edamame seemed the perfect protein packed pod to round out the meal.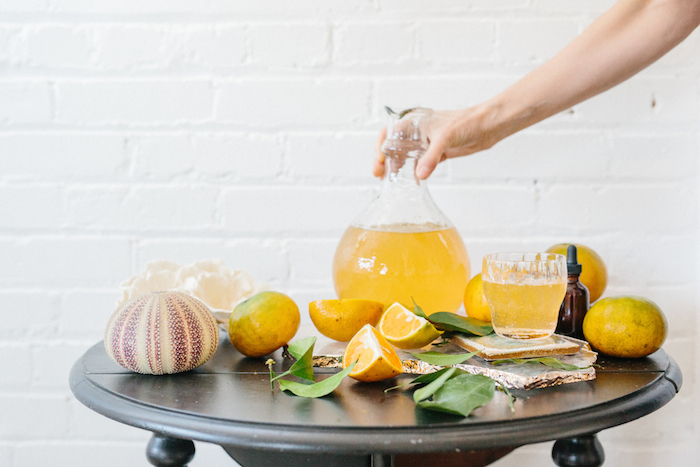 :: To Drink ::
With Pisces ruling the immune system, a citrus drink packed with Vitamin C properties felt like a great addition to this dinner party for Pisces menu. I chose honey tangerine as the base for this concoction, due to it's subtle flavor and great-for-juicing quality (plus they're the citrus fruit whose color that I love most). This is a very mild and refreshing drink, as I was hesitant to add anything too bold to the already strong seaweed flavor.
Recipe (serves 4):
Juice of 4 Honey Tangerines
Optional – 4 drops of orange bittters (add just a hint of medicinal and herbal alcohol with the bitters, which help with multiple issues – from balancing appetite to increasing the absorption of fat soluble vitamins)
4 tsp raw honey
Cut with either club soda or sparkling water to your desired strength
Pour into ready iced glasses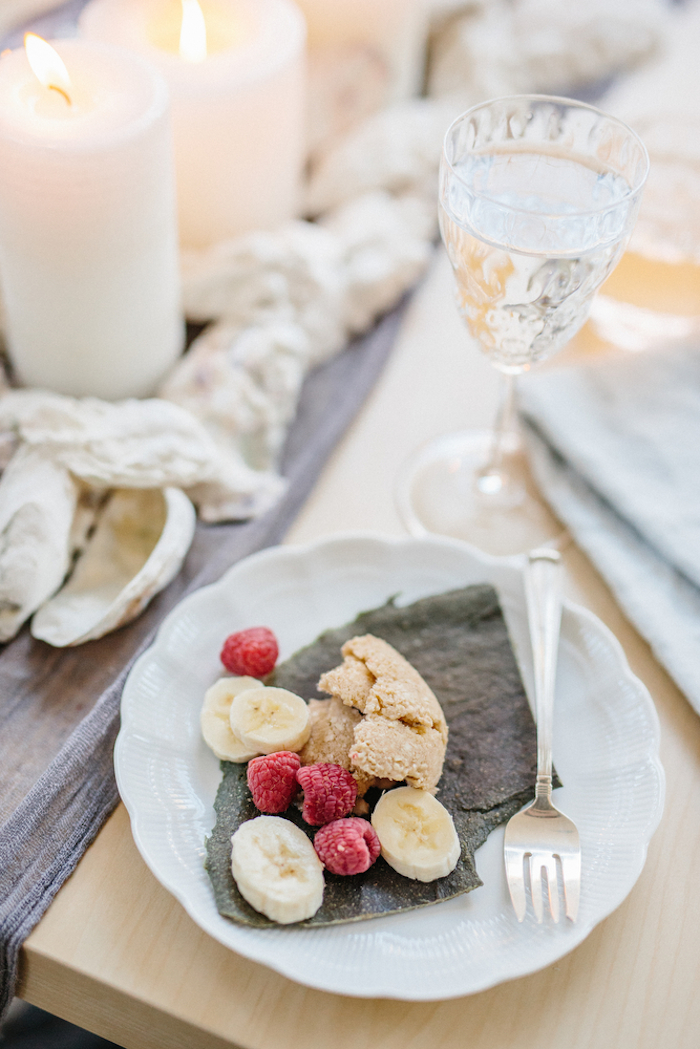 :: Dessert ::
A unique and surprisingly delicious dessert fit the bill for this dinner party for Pisces: Spirulina banana protein crepes with coconut-banana-cashew ice cream, which I modified from this recipe. This was definitley an experiment for me, and a little touch and go as my first batch of crepes did not turn out well AT ALL! My second batch put me back on track, and having switched out the buckwheat flour, I finally felt like I had completed this water thriving plant-food feast.
For those of you unfamiliar with spirulina, it's a blue-green algea that thrives in both fresh and salt waters (I use it in powder form). Like seaweed, it's also increadibly nutrient dense with serious antioxidant and anti-inflamatory properties. The recipe link will show you all the additional benefits.
Of course, this post is intended as inspiration, so don't stress about the over-the-top details – rather, incorporate your own vision into what inspires you from the above elements, to create your own version of a beautiful dinner party for Pisces. And whatever you do, celebrate with Piscean openness and compassion this season.