Connect to your intuition and accept your whole self to experience all-encompassing, true self-love, says Aaron Ganesan…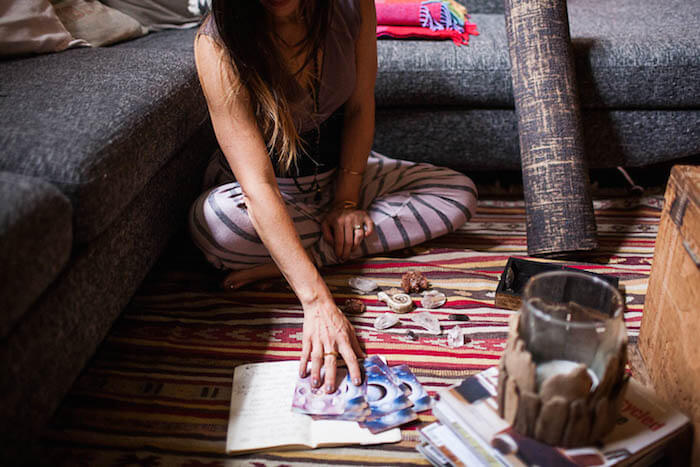 True self-love is a continuous practice, and one that requires us to show up for ourselves with some willing dedication. Everything from the mundane to the mystical becomes an opportunity to practice presence. This is since true self-love is about connecting to, and accepting, our whole self.
With practice, this will cause a ripple effect in our work, our relationships, and our physical and emotional health. Because when we feel uplifted and supported our intuitive powers soar—which is key to creating an inspiring life that positively impacts the world within us and around us.
Everything from the simple act of making your bed each morning to decorating your altar with reverence, can be used to foster true self-love. It's the accumulative impact of consistent self-care actions that makes the difference. Think of any action performed from a place of self-awareness and self-acceptance as various 'threads', woven together to create a 'net' of support that holds you throughout the tides of life and gives you something to always fall into.
Here are a few rituals that will help you cultivate true self love and increased intuition, resulting in lasting calm. Stick with the following regimen for the next 30 days and I promise you will see and feel real results. You can go big and do them all, or stick with your top two. If you miss a day, don't fret. Simply get right back on track and keep looking ahead.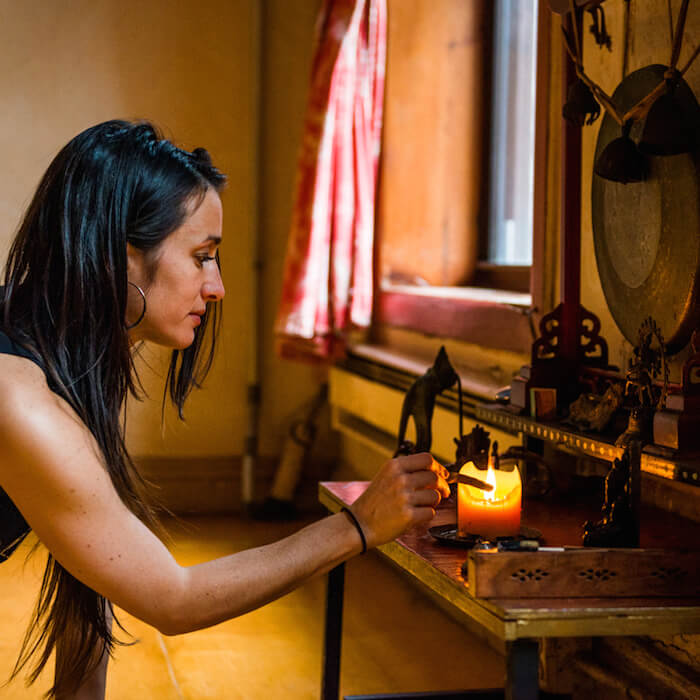 MEDITATE: Quiet stillness helps us recognize the subtle voice of our intuition. We need to connect to our inner source of power on a daily basis to strengthen this connection. Meditation helps us feel more centered and grounded so that our sensitive, intuitive nature can feel nurtured. Carve out some space to sit quietly. Light a candle, get comfy, and set your timer so you can relax. If meditation is new for you, sit for 5—11 minutes. If you're ready to step it up, sit for 11—30 minutes. Pick a timeframe that works with your morning flow. Bonus: end your meditation with a prayer and set intentions for the day ahead to welcome your best self forward.
AWAKEN CREATIVITY: Carve out some time 1—2 times a week to let your creative juices flow. It can be anything, such as watercolors, drawing, creating a collage or dream board, making your own candles, or journaling. The options are endless. The important thing is to get creative with no particular goal in mind, allowing your intuition to call the shots.
MOVE YOUR BODY: Energy needs to consistently move and be refreshed, or we tend to overthink our way through stuck feelings, which is a huge hindrance to intuition. So commit to move your body in some form daily. This will keep your head clear, your energy fresh, and your mood uplifted. This can mean a walk, yoga class, a steady run, dance, some slow stretching, a bike ride, or any other movement practice that gets you out of your head and into your body (where the 'voice' of your intuition lives).
GET EARTHY: Life is hectic and filled with too much phone and computer time—a damper on intuition if you skip the counter practice of nature time. Time spent in nature is calming, and taps us into our higher spirit. Its softening effect awakens the voice of intuition AND our willingness to listen, to breathe deep and feel what is here. You can also get earthy by adding natural elements to your home such as sticks, stones, crystals, feathers, flowers, and plants—intuition loves this too!
ORACLE WISDOM: Working with your favorite oracle, tarot or affirmation deck is a direct way to tap into your intuition, as having a visual and verbal cue to guide our inquiry is an inspiring way to feel into our truth. This can be a part of your morning ritual and is also a nice afternoon or nightcap ritual. Choose a time of day that works for you and consistently work with your cards. The more you work with your favorite deck the more they become a part of you. As you pick your cards, feel into what they tell you and trust the inner wisdom you receive.
Finally, let's thank the directive inner voice that wants to be nurtured, heard and adored. If you take care of her she'll take care of you.
Aarona Ganesan is the author and co-creator of 'The MoonDeck' (an intuitive oracle deck filled with inspired offerings to stoke the powers of intention and ritual) and offers private and group coaching in her 'Soul Love Rehab' program. To learn more visit AaronaGanesan.com
PLUS Numinous readers can get 15% off The Moon Deck with the code MOONMUSE! Offer expires in 72 hours.