Crystal goddesses, Energy Muse, thought they'd seen it all. And then came the Tucson Gem Show—the world's biggest crystal fair. Read on for an exclusive look behind the scenes …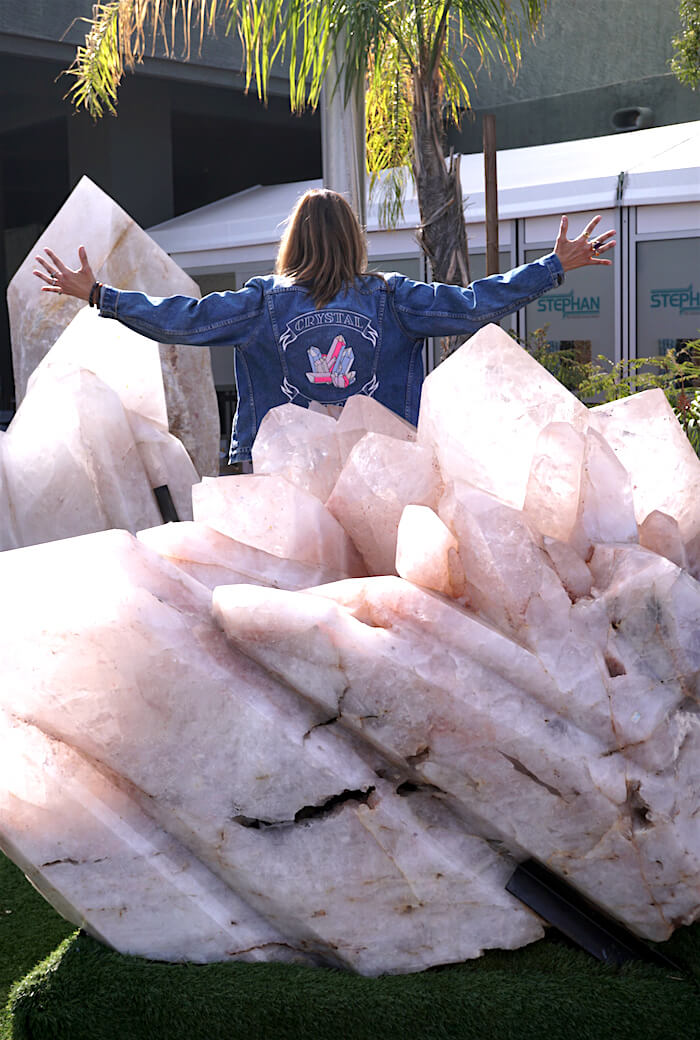 Every year we brace ourselves for the wild ride that is the Tucson Gem Show—and every year it takes us by surprise any way! It's the biggest crystal fair of the year, with best-of-the-best specimens from over 25 countries around the world. Packed with like-minded crystal lovers, think museum quality pieces of Amethyst from Uruguay, Selenite from Morocco, or Rose Quartz from Madagascar. And you get to soak up the vibes just by stepping into each booth!
What were our favorite finds of 2018? Below, our top picks of the magic rocks … 
>>>
// HUGE Quartz crystal [pictured above] // If we weren't already feeling the love, our hearts were bursting open after we connected with the energy of the ultimate love stone. Due to their size, larger minerals are able to make a larger energetic impact on your environment at a way faster rate.
>>>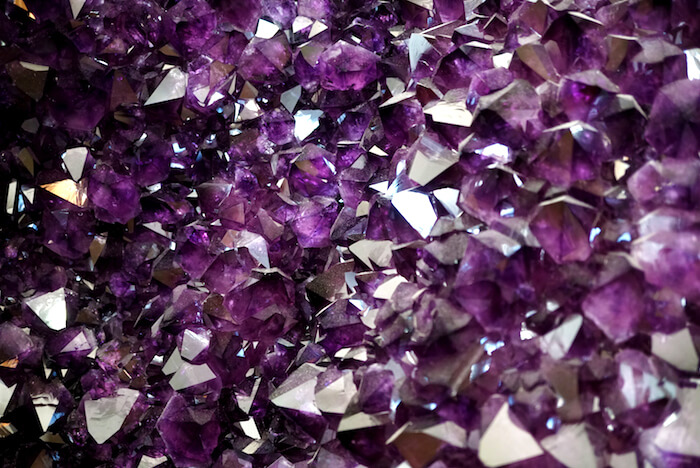 // Amethyst // We wanted to literally crawl into the rich, violet amethyst crystal caves we found—so, we did! That's how massive they were! We've been traveling the world, studying crystals for nearly three decades, and this was our first time experiencing amethyst caves that size. We always recommend having an amethyst in the home for stress-relief benefits. Needless to say, we were plenty chill by the time we moved on.
>>>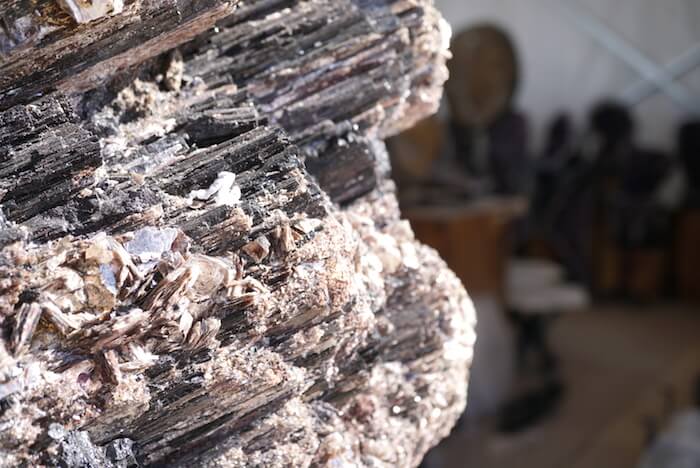 // Black Tourmaline // This huge chunk of black tourmaline was our best friend after an overwhelming day of crystals and crowds. Black tourmaline absorbs negative and spent energy, and leaves you feeling renewed and protected. We usually suggest placing a piece of black tourmaline in each corner of the room to create a protection grid, or on either side of your front door.
>>>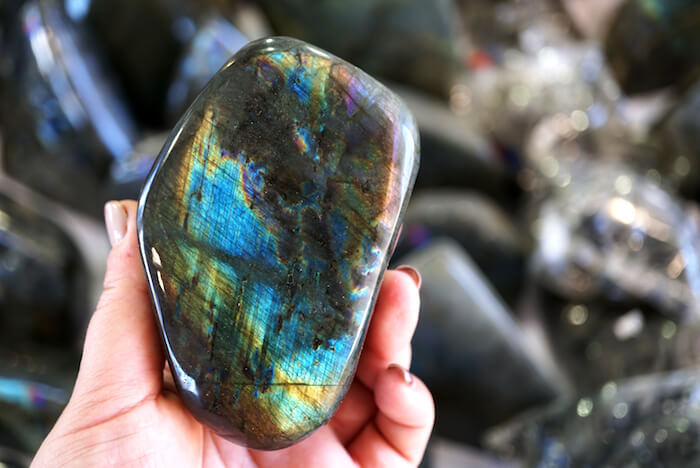 // Spectrolite // We can't get enough of spectrolite—a rarer and more radiant variety of ultra high-grade labradorite. For a specimen to be deemed spectrolite, it has to contain flashes of a variety of colors, like red, orange, blue, green, yellow and purple. These crystals ignite your curiosity, confidence, and desire to explore. Whenever we need inspiration, we tap into spectrolite energy.
>>>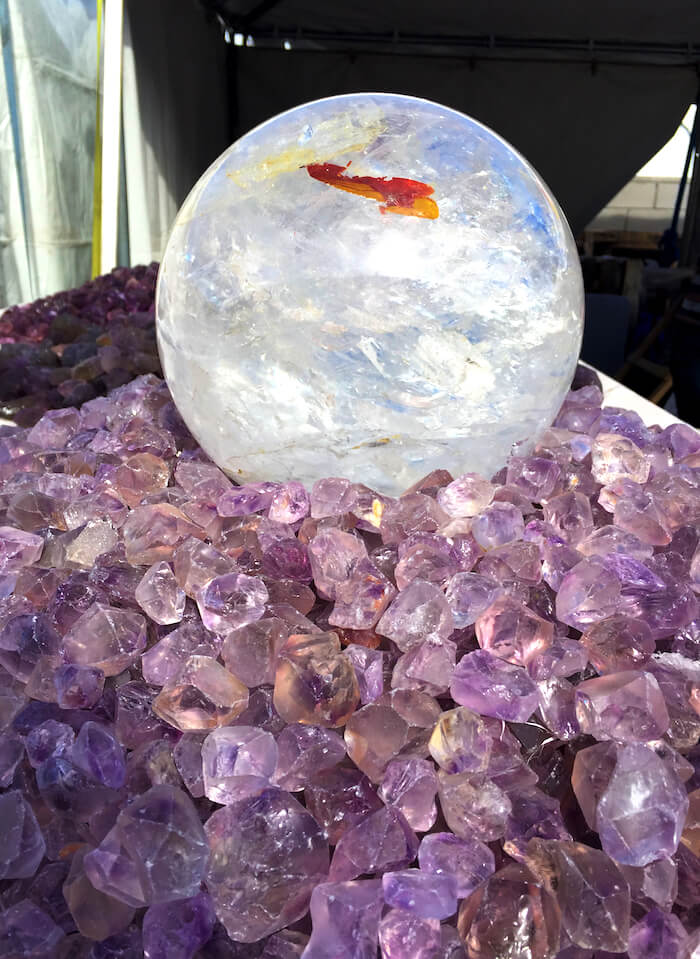 // Quartz Sphere on Ametrine // This bed of ametrine (a sunny and soothing crystal combo of amethyst and citrine), is being amplified out by the high-vibing power of a GIANT quartz sphere. We found these crystals sitting pretty in the sun—clear, cleansed and radiant.
>>>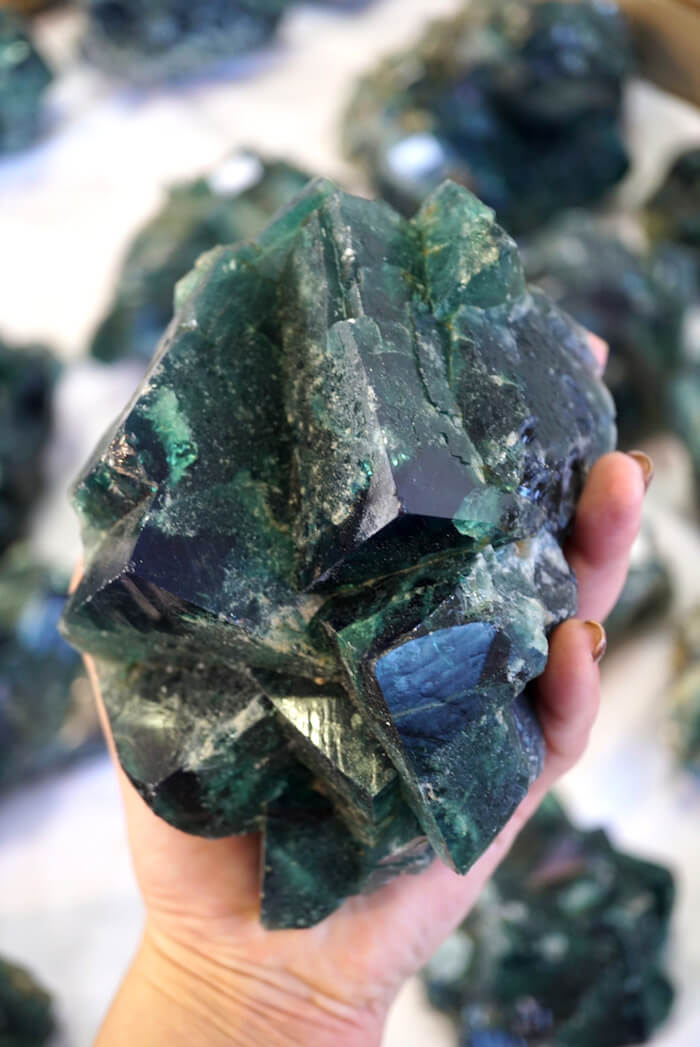 // Fluorite // This is a unique form of fluorite from Madagascar. It's not often that you'll find fluorite with a deep green hue like this. An extremely soothing stone, fluorite of this quality would be great for someone struggling to quiet their mind and get to sleep at night. Think of it as an energy vacuum cleaner.
>>>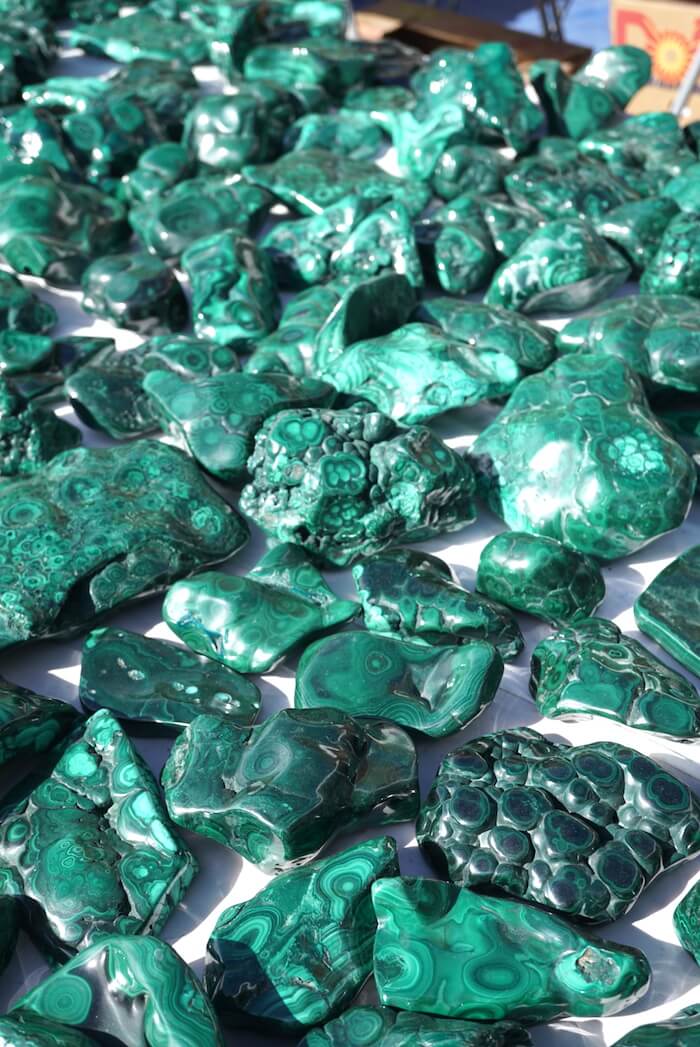 // Malachite // These malachite stones were begging to go home and make transformations with their human companions—aka us! A great pick for anyone looking to break negative patterns and instill wisdom, using malachite over the heart can be helpful for overcoming issues in love.
>>>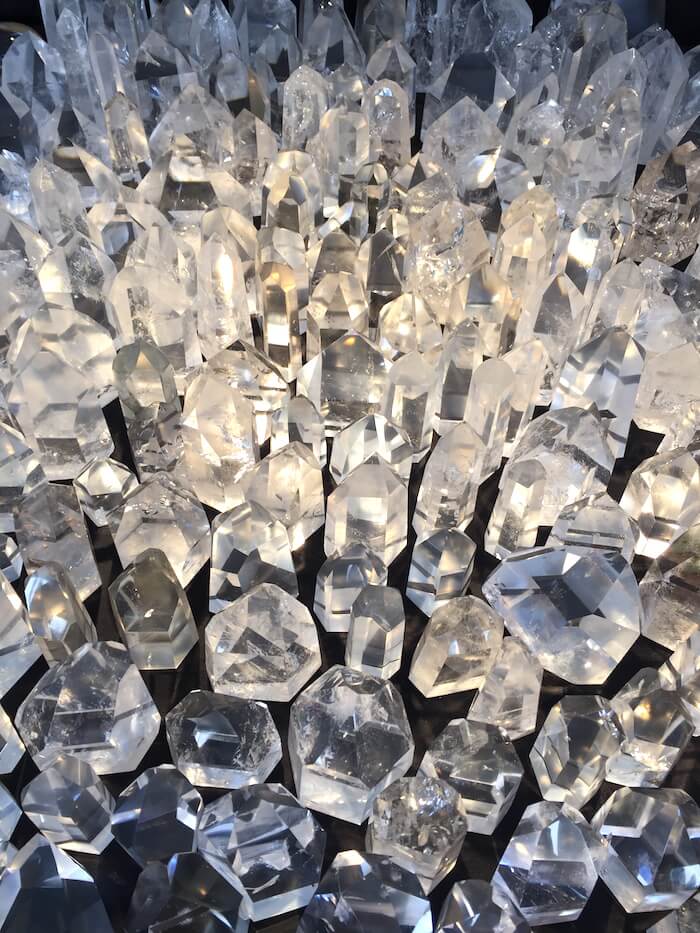 // Quartz Points // We were drooling over the potent manifestation energy of these quartz points. Just one quartz point is an intense magnifier of energy, so you can imagine the collective force of these guys all together! Place a written intention underneath the point + have the energy of the crystal carry it up into the universe.
>>>
// Rainbow Obsidian Hearts // We're looking forward to pouring some love and forgiveness into the layers of our soul with these rainbow obsidian hearts. Rainbow obsidian is like a mirror that shows you everything there is to love about yourself, as well as reflecting your opportunities for growth. If you're dealing with a broken heart or trauma, place one of these over your chest (rainbow side down) to begin healing.
>>>
Energy Muse co-founders Heather Askinosie and Timmi Jandro and are true pioneers in the crystal and holistic healing industry. Together, they are the authors of the new book, Crystal Muse: Everyday Rituals to Tune into the Real You, and  can be visited online at www.energymuse.com.