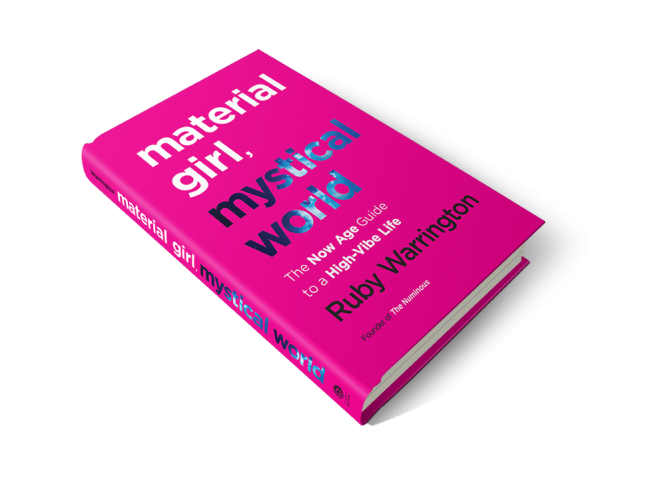 Material Girl Mystical World, to be published simultaneously in the UK (May 4 2017) and US (May 2 2017) by Harper Elixir, offers a sophisticated upgrade on the consciousness-shifting traditions that have inspired seekers for generations. Set against the backdrop of Ruby's own transformative path from her dream job as an influential fashion journalist to creating The Numinous, readers are invited on a colorful journey toward discovering personal enlightenment in every area of life, from love, sex and relationships, to fashion, beauty, health and wellness.
From how to survive and thrive at Burning Man, to creating rituals that celebrate the Divine Feminine to exploring the shaman in you, Material Girl Mystical World is a lively and transporting adventure into Ruby's surprisingly stylish "Now Age"—from Brooklyn, to Venice, to Black Rock City and beyond.
###
PLUS get these bonus gifts when you pre-order!
– Access to exclusive 60-minute Dharma School webinar with Ruby – with coaching plus LIVE Q&A on how to discover your dharma
– 1 x exclusive missing chapter on how to work with Angels + Spirit Guides
– 1 x month FREE membership to Moon Club (includes astro-coaching PDF for the month, 1 x LIVE Moon Mystic Q&A, 1 x LIVE Full Moon Ritual, 1 x LIVE coaching call, and 1 x bonus LIVE workshop!)
###
HOW TO GET THE BONUS PACKAGE
PRE-ORDER "MATERIAL GIRL MYSTICAL WORLD" FROM ONE OF THE BELOW RETAILERS.
IN THE USA:
IN THE UK:
2. ENTER THE FOLLOWING DETAILS (*and then surrender your need for instant gratification to the Universe, since the bonus package will be delivered on the US pub date of May 2 2017)