A recipe for Sagittarius season that's as bold and voraciously moreish as the archer of the zodiac. Concept and styling: Georgia Ashdown, Dish Pig; Words: Mojave Rising; Recipe: Alex Watts, Dish Pig; Image: Chris Chen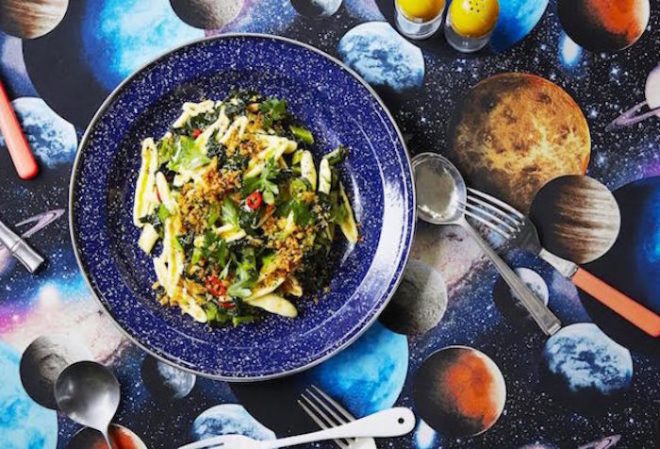 Sagittarius season speaks of straightforwardly savory spices and down-to-earth eating that's exploratory, experiential, and infused with the hedonistically honest hunger to lick our plates clean. The zodiac's bareback pony beckons us to chop roughly, expand our portions, and revel in the glorious Roman feast!
We've chosen a dish that's both invigoratingly spiced and warmly filling; the perfect meal for corralling your horses back at the ranch and kicking up your cowgirl boots to prepare for the juicy journeys ahead.
Unpretentious ingredients, pasta shaped like bohemian ships, wild-hearted greens, and zesty lemon and chili that channel the Sagittarian lust for life… it's a pasta for sharing, and for seconds, and thirds. There's more than enough to go around in this ever-unfolding adventure of appetites!
CICATELLI, TUSCAN KALE, GARLIC & CHILI PANGRITATA
Serves 4
Chef's Notes: Cicatelli can be substituted for another egg-free pasta such as orecchiette. Tuscan (lacinato) kale can be substituted for another green vegetable such as spinach or broccoli. Make a large amount of pangritata and store in an airtight container for later use.
1 cup stale, day old bread
1 red chili, deseeded and chopped
1/2 tsp dried thyme
4 cups dried cicatelli or other pasta
3 cloves garlic, sliced thinly
1 green chili, deseeded and sliced thinly
2 bunches of young Tuscan kale or other green
2 lemons, zested and juiced
1 cup extra virgin olive oil
3 tbs flat leaf parsley, chopped
To make the pangritata, put the bread crumbs, red chili, ¼ cup extra virgin olive oil , thyme, 1 tbs of parsley, and zest of 1 lemon into a blender and pulse until it resembles coarse bread crumbs.
Place onto a baking tray and cook at a low temperature, 250 degrees, until dry- approximately 1 hour.
Remove the stalks from the kale, chop and wash thoroughly.
Bring a large volume of water to a boil with a good amount of salt.
In a separate pan, gently fry the kale stalks in the remaining olive oil, chili, and garlic. After a few minutes add the chopped kale leaves and cook for another few minutes.
When the water has come to a steady boil, add the pasta and cook until al dente.
Add the pasta to the kale with a little of the pasta water. Finally, add the lemon zest and lemon juice and mix well, adding a little more olive oil, salt and pepper if needed. Remove from the heat and serve with pangritata sprinkled on top.